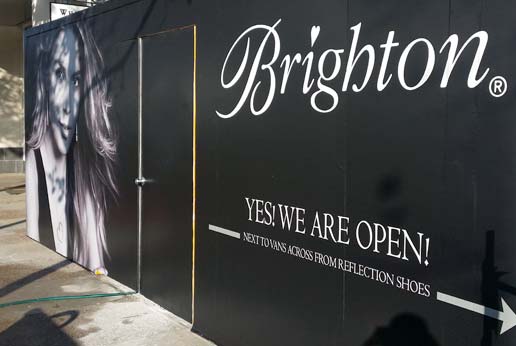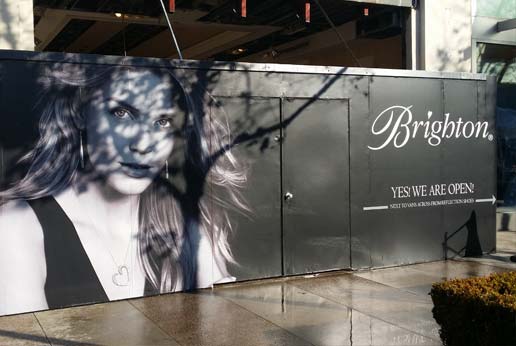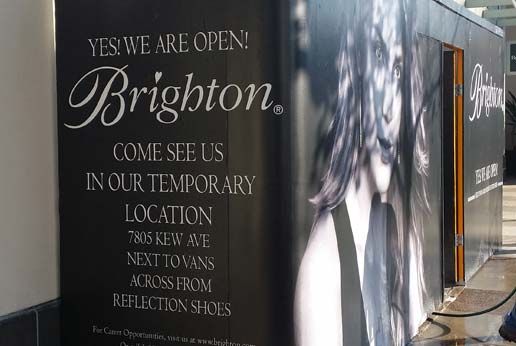 Brighton: Victoria Gardens Shopping Mall Barricade
AGRetail recently completed the print production and installation of shopping mall barricade graphics for the Los Angeles-based Brighton. The barricade graphics were printed in-house on our superwide UV printer onto exterior grade white vinyl and satin laminated.
Brighton creates products that accessorize women stylishly from head to toe is our passion. As a Los Angeles-based, family-owned company, they started out by crafting men's belts that reflected a dedication to detailed handwork. Made of the finest leathers, each one had the feel of a one-of-a-kind piece from an artisan's workbench. The company has grown over the years, evolving to also become a woman's accessory line with many types of products, yet our vision remains the same. Each season, our diverse and talented design team and artisans create new and modern versions of timeless accessories that are crafted in the unique Brighton manner, so that customers can continue to collect fashion-relevant pieces that can be treasured a lifetime.
AGRetail work with clients and retail chains right across North America, so if you looking for expert advice, project management, production and installation for shopping mall barricade projects then contact us today to find out more.