AGRetail
Complete retail design and retail graphic solutions from barricade graphics to exterior signage to interior retail graphics.
Phone: 909-937-7570
Beautiful premium branded cosmetics and beauty products are a luxury that we love to indulge in. Exquisite scents, truly stunning make up that helps us feel $1 Million and gifts that show others how much we care set leading name Estée Lauder and their upcoming brand, Origins, apart from their competitors. It is little wonder that when they wanted to promote the re-opening of their concessions at the Biltmore Fashion Center in Phoenix, AZ and the Chandler Fashion Center, Chandler, AZ, they turned to AGRetail to produce retail barricade graphics which would capture the quality of the brands.
The relationship between The AmGraph Group and Estée Lauder began with a project managed by Wendy Sabine, Business Development Manager at AGRetail, for Barricade Graphics at their new AVEDA Store at Victoria Garden's in Rancho Cucamonga, CA. Demonstrating the outstanding service we offer, we were quickly asked to complete print and installation of interior graphics at the same store, in order to show Estée Lauder the scope of our services.
We pride ourselves on exceeding the expectations of our clients and having been fortunate enough to work on a previous project, we were approached to complete the installation of Origins retail barricades in other states. Their stores are fresh, clean and innovative in design and require their associated graphics to provide consistency with their brand image.
Founded in 1990 as the first department store wellness brand, Origins is now sold in over 20 countries. Origins' mission is to create high-performance natural skin care products using potent plants, organic ingredients and 100% natural essential oils. Its products are manufactured using renewable resources, wind energy, and earth friendly practices.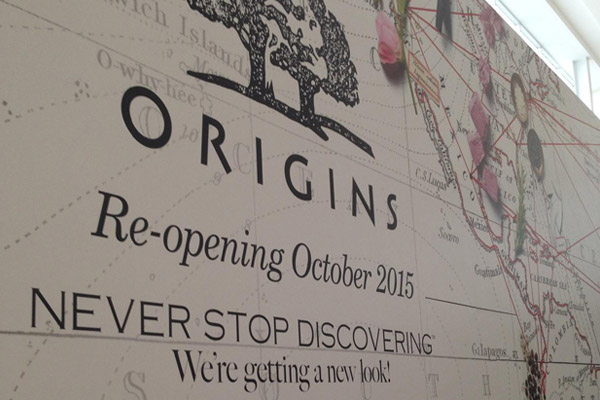 At AGRetail we ensure we follow environmentally friendly practices and, in line with Origins' vision, all our graphic barricades are produced with the minimum carbon footprint. The retail barricade graphics installed in Arizona let customers know that the brand store would soon be reopening in a clear and bold way. We think they look amazing!
Working alongside Estée Lauder and National Construction, we are delighted with the professional and eye-catching results. We look forward to a continued strong working relationship for many years ahead.